It was early October and I was on my way to the airport, looking forward to 7 days of sun and surfing in Brazil. As per the usual arrangement, I presented my passport at the Air Canada desk, only to hear, we don't have a ticket for you Mr. Klachan. As it turns out, the travel agent made the ticket for Christopher David, not Christopher David Klachan, which in the eyes of Air Canada is a different person. After an hour of trying to keep my calm while 'politely discussing' with the Air Canada staff, I realized I wasn't going anywhere. It would have been useful to know at the time, that this would ultimately take me to the Winter Olympics in Sochi to work with a number of the US bobsled and skeleton team.
Two days later, I received an email from Dr. Mark Scappitticci and Dr. Mike Prebeg explaining that a two time Summer Olympic medalist was looking for therapy to help her prepare for the US Olympic Trials in bobsleigh. I had worked with bobsledders before, but the thought of working with a winter sport made me slightly resent missing my trip to Brazil. At the same time, I had heard nothing but great things about working with this athlete so I thought I would give it a go.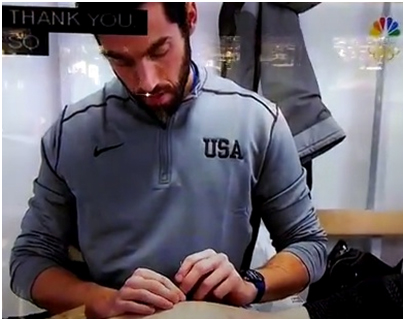 I spent 4 days working with a number of athletes, most of whom were selected to represent the US on the World Cup Tour. A couple weeks later, they asked if I could help out with a World Cup event in Park City, Utah. After a successful double header in Utah, they asked if I would join them for three weeks in Europe on the World Cup. As time passed, a number of athletes were added to the treatment roster, and when US Olympic team was selected at the near end of the World Cup season, all of the athletes I was working with made the team. At the end of the World Cup season, the US women's bobsled were sitting in 2nd, 3rd and 7th going into the Olympics and the athletes and coaches started discussing the potential of me joining them in Sochi. To my great surprise, the US Olympic Committee was able to arrange a visa, flight and accreditation in the last few days prior to the opening ceremonies. Forty-eight hours later I was heading up the gondola to the Sochi Mountain Village to work out of US sports medicine.

A day in the life
Success in both bobsled and skeleton is largely dependent on the athletes being able to accelerate the sleds from a dead start. All driving being equal, the athlete with the fastest start time, producing the greatest start velocity, will win the event. Essentially, the athletes are powerful sprinters that have perfected a way to 'hit' the sled with enormous power and accelerate it to maximum velocity.
Whether it was training day or race day, most of the athletes received a pre performance treatment. These treatments were aimed at optimizing joint mechanics, muscle tension and force production, mostly utilizing soft tissue work, performance taping, mobilization and manipulation. After training had finished, a more thorough treatment was administered to work with any nagging injuries or simply to further the optimization process. Regardless of the objective, the athletes were assessed functionally and orthopedically, using range of motion, manual muscle testing, movement screens and other. Stuart McMillan, a very successful sprint and push coach was enormously useful in providing information on functional deficits to search for based on slow motion video analysis and his inspection of the athletes during warm up, training and racing. Based on the findings, a combination of electro-acupuncture, soft tissue work, joint mobilization/manipulation and performance taping was again administered. A number of other staff members working with sports medicine were wondering why the athletes were treated so frequently. I explained that the objective was to catch something before it progressed to a more significant issue. If we were to recognize an inhibited muscle necessary to performance, we would aim to facilitate it before the athlete created a work around motor program that was more metabolically, neurologically or mechanically taxing.
On tour, some injuries require a little more attention than others. A bobsleigh drivers had experienced a couple of crashes in training going into the Olympic final. The crashes had left the athlete with not only strained neck muscles but an agitated neurological state. In this case, as much focus was placed on restoring sympathetic-parasympathetic nervous system balance as it was addressing the physical injuries. A little fight or flight is good for a short duration but this athlete had to be in a good head space to keep their muscle tone in the right spot and to stay calm and focussed while weaving a bobsleigh at close to 150 km/h. Dry needling or acupuncture was again used to facilitate this process.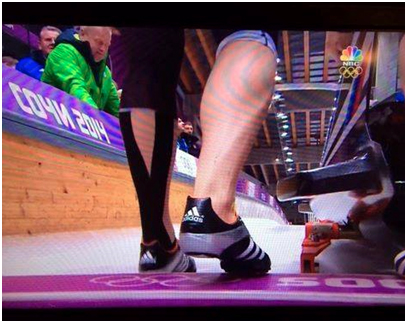 An athlete's worst nightmare, you're in your second of four heats, on your first of two days of competition and you feel a pop in your calf when accelerating. To top it off, you are sitting in medal contention and you still have one more event to compete in five days later. Do you drop out and save it for the next competition, do you go 50% and fall out of medal contention. The beauty of the human body is that redundancy is often built in. In this case the athlete was fortunate in that the compromised tissue is one of six that can help perform the roll of ankle plantar flexion and he was up for the battle. It was determined that the bottom of the inner gastrocnemius where it meets with the upper achilles tendon had been partially torn, furthermore, inhibition in his gluteus maximus was found. The approach was to facilitate the healing of the torn tissue, while to simultaneously ensure the other muscles assisting in the kinetic chain of hip, knee and ankle extension were not inhibited. The motor points of the assisting muscles were all stimulated with electro-acupuncture along with the trunk of the tibial nerve. Simultaneously, gentle soft tissue was administered above and below the injured site in an attempt to not let the adjacent soft tissue recoil away. Finally, to facilitate the assisting muscles and protect the injured tissue performance taping was administered. It wasn't perfect, but the result was he was able to maintain his bronze position on day two and push to another bronze in four man a few days later at a self proclaimed 95%.
All in all, the athlete is able to appraise the outcome of the treatments almost immediately after and in sport there are numbers to confirm or deny. In day-to-day injuries, a patient may not have the objective data, but the approach is still driven by the same understanding of anatomy, neurology and physiology. The end result may be as simple as a patient who suffered a strain in the office, can now comfortably sip his caipirinha on the beach in Brazil.
---
Christopher Klachan, DC, BSc, CSCS, is currently seeing patients at two downtown Toronto locations, Athlete's Care Sports Medicine Centre in Yorkville and at Adelaide and York.