BY
ADMIN
ON March 06, 2014
We are pleased to feature North York Naturopathic Doctor, Teresa Tsui. Dr. Tsui practices out of the Athlete's Care Yonge & Sheppard location.

Athlete's Care Yonge & Sheppard
In Empress Walk
5095 Sheppard Avenue
tel. 416.479.8685
Teresa Tsui, ND (Doctor of Naturopathic Medicine), is a clinician, educator, and researcher who has a practice interest in the prevention of athletic injuries, exercise recovery, pain management (arthritis, chronic fatigue, and fibromyalgia), children's and women's health conditions, and healthy aging. She treated athletes on the field at volleyball and Ultimate Frisbee competitions across Ontario as part of the Sports Medicine team at the Canadian College of Naturopathic Medicine (CCNM).

Teresa focuses on using acupuncture and Asian Medicine, botanical / herbal medicine, nutritional counseling, and supplementation in her practice. Many of her patients also see her for allergies, cardiovascular conditions, diabetes, digestive conditions, fertility and pregnancy preparation, skin conditions, and stress-related conditions.

She is a clinic supervisor and academic instructor at the CCNM. At University of Toronto (U of T), she manages the national Interdisciplinary Network for Complementary and Alternative Medicine Research (IN-CAM) Network for health care professionals, researchers, policy makers, and students. She also lectures undergraduate students, inter-professional education students, and clinician practitioners on natural health products at the U of T.

In addition to her ND and Clinic Residency from the CCNM, Teresa also received her BSc(Hon) in Pharmacology with Psychology, and MSc in Pharmaceutical Sciences (natural health product decision making), both from the University of Toronto (U of T).

Teresa is recipient of the American Specialty Health scholarship in Naturopathic Medicine, University of Toronto Scholar, and Advanced Certificate in piano performance from the Trinity College, London.

In her spare time, Teresa enjoys yoga, qi gong, and working out at the gym.
---
Interesting articles by Toronto Naturopath Teresa Tsui include:

The Common Cold: Prevention & Treatment

Staying Healthy the Holiday Season

... more
BY
ADMIN
ON February 03, 2014
Congratulations to Amy Thieu, for receiving a Recognition Award from the University of Toronto Department of Physical Therapy for her work as a Clinical Instructor. These awards acknowledge individuals who have provided great learning environments, guidance, supervision and are an inspiration to physical therapy students.
Amy Thieu is a Registered Physiotherpaist at our Athlete's Care Yonge & Sheppard location.

Click here to find out more about Amy.

Please call 416.479.8685 to book an appointment at our Yonge & Sheppard location.
... more
BY
ADMIN
ON January 23, 2014
We are excited to welcome Tanya Jessica Reid to our Athlete's Care Adelaide & York location.
Tanya Jessica Reid has been treating athletes in the fitness industry since completing her Advanced Diploma from Centennial College in 2010. Tanya takes a pro-active approach in her treatments, focusing on learning the most about her clients' activities and treating through a cause rather than symptom based approach.

Tanya uses multiple modalities to treat her clients in the most effective way. This methodology also increases the overall efficacy of her treatments. Through the combination of massage and acupuncture she can focus on various regions in parallel.

Tanya continues to refine her craft through continuing education as well as through growth with her clients. She is passionate about health and helping her clients to lead a balanced lifestyle, whatever their fitness or athletic goals.
---
To book an appointment with Tanya, please call our Athlete's Care Adelaide & York location at 416.479.8554

... more
BY
ADMIN
ON January 23, 2014
New Knee Ligament Found: Implications on Your Rehab and Recovery
Dr. Matthew McGrath, BKin (Hons.), DC
While science is constantly making new discoveries, we tend to think of the science of gross anatomy as pretty well wrapped up. The body is the body, it hasn't changed much over the last 40,000 years or so, and anatomists had long ago identified every structure there is to identify, right? Well, two surgeons from Belgium would argue differently. A "new" ligament was recently discovered in the human knee which was, up to this point, considered part of the Anterior Cruciate Ligament (ACL). This new ligament, dubbed the Anterolateral Ligament (ALL) was noted in 97% of cadavers studied by Drs. Claes and Bellemans. To most, save us anatomy geeks, this news may not be earth shatteringly exciting; however, it does have a significant impact on anyone who has ever had a knee injury or knee surgery.
The ALL is hypothesized to control internal tibial rotation thereby affecting the sensation of giving out during activity, often referred to as the pivot shift phenomenon. The anatomical research has shown that a tear in the ALL increased the amount of pivot shift present with an ACL tear. Researchers are now developing a surgical technique to correct ALL injuries and this may be a breakthrough in the treatment of patients with complicated or recurrent ACL injuries.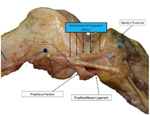 If you are suffering from a knee injury, or if you have a chronic or recurring knee problem that includes a giving way sensation it is always a good idea to have it thoroughly assessed by a health care professional to determine the root cause of the problem. This new discovery may have significant implications on how you should be addressing both your treatment and rehabilitation.
---
Dr. Matthew McGrath, DC, Chiropractor, Active Release TechniquesTM Provider, Medical Acupuncture. Dr.McGrath practices at our Athlete's Care Scarborough and Yonge & Sheppard (Empress Walk) locations. He is also involved with the Athlete's Care Concussion Management program. To book an appointment with Dr. Matthew McGrath, please contact:

Athlete's Care Scarborough - 416.479.8686
Athlete's Care Yonge & Sheppard - 416.479.8685

... more
BY
ADMIN
ON January 21, 2014
By Teresa Tsui, MSc, ND
After ringing in the New Year, many individuals reflect on the year past and set New Year's resolutions for the year ahead. While a large number of individuals set these resolutions, less than half are still implementing their resolutions half a year later. This figure is understandable given that studies on behavioural changes show that successful implementation of new behaviours include many factors, including one's readiness to change, adequate education on strategies to change, and self-regulation, such as goal-setting and self-monitoring.
Here are some common New Year's resolutions including eating healthier, losing weight, quitting smoking, and some tips to help you implement them.
Resolution: Eating healthier
Many people mention they would like to eat the best way possible for themselves, or want to try different types of diets in the New Year. Speak with a dietician or naturopathic doctor before modifying your diet to ensure that you are choosing the right foods for your body's needs. Be specific with how you want to eat healthier – such as striving to eat 6 servings of fruits and vegetables a day, rather than just increasing your vegetable intake in general. Write these goals down, and place them somewhere visible where you will see them frequently. Revisit these goals periodically, or by following up with your health care provider to monitor your progress.
Resolution: Losing weight
The New Year is a popular time that many people want to improve how they feel and look. Some individuals have the intention to lose weight as a way to achieve this goal. Individuals who are overweight are at higher risk for many chronic health conditions such as heart disease, diabetes, high cholesterol, arthritis, and many more conditions, therefore weight loss can be very beneficial for preventing long term health conditions. Many successful weight loss approaches include education on diet and nutrition, an exercise plan, and behavioural changes which are best individualized. If you are considering losing weight, speak with your family doctor or naturopathic doctor to determine which approach is most suitable for you.
Resolution: Quitting smoking
Along with improving their health, and turning over a new leaf, long term smokers sometimes vow to quit their habit once and for all in the New Year. If you are considering quitting smoking, speak with your family doctor about drug therapies that can help you quit smoking. If you are considering a natural approach to quitting smoking, naturopathic medicine can help increase your chances of quitting, and supporting you throughout the process. Smoking is one of the hardest habits to quit since many environmental cues (e.g., familiar smoking environments), personal factors (e.g., one's belief in successfully quitting), and behavioural issues (e.g., having the tools to quit) are at play. Do not quit alone – speak to a qualified health care professional first.
---
About naturopathic medicine

Naturopathic medicine is a complementary and integrative approach to primary health care aiming to address the cause of disease while supporting your body's ability to heal itself. Naturopathic medicine is covered by most extended healthcare plans.

Teresa Tsui, MSc, ND practices at Athlete's Care Empress Walk, improving the quality of life of the community. Call 416-479-8684 to learn how naturopathic medicine can help you.

... more