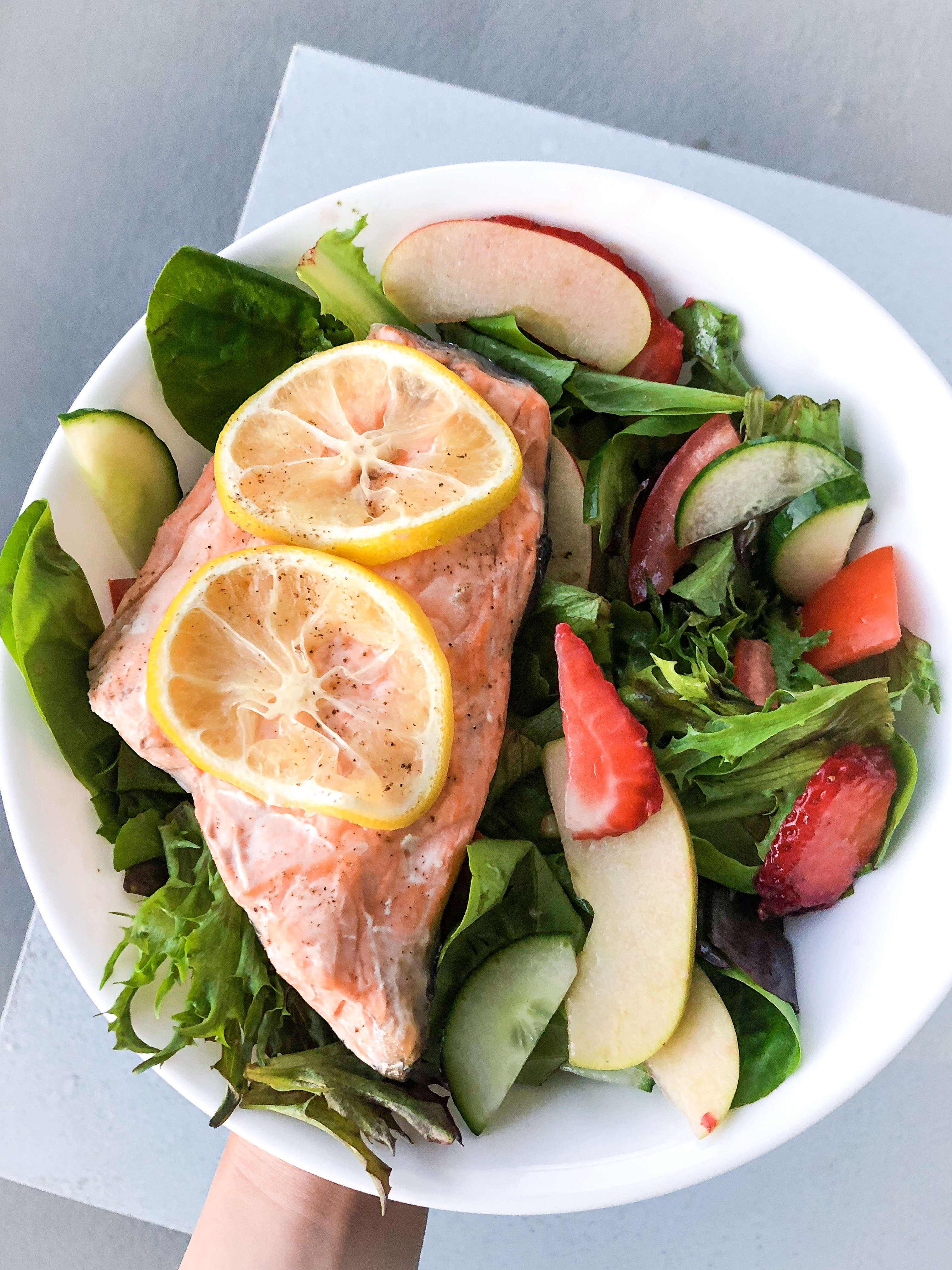 Did you know? Eating oily fish twice a week can reduce the risk of cardiovascular diseases.
🎣 Oily fish is an excellent source of omega 3 fatty acids EPA and DHA, which our body cannot synthesize enough of.
🎣 EPA and DHA form the cell membranes of our eyes and our brain. Research shows promise that omega-3's can reduce the risk of depression, dementia, inflammation, and some cancers.
🎣 Besides salmon, fatty fish includes sardines, tuna, arctic char, and herring.
💊 Does an omega 3 pill yield the same benefits? Maybe! Pregnant women, and those with high triglyceride levels may benefit.
😱 Worried about mercury levels? While mercury poisoning is especially of concern to young children or women who are pregnant, most of the population need not to worry. Limit high mercury fish (large fishes) (white tuna, swordfish, shark) to <150g/week. Ensure you are eating enough selenium (as selenium binds to mercury, preventing toxicity).

🐠 salmon: season with lemon juice, evoo, salt, pepper, and bake at 400F for 20 minutes
🥗 salad: while the salmon is baking, cut your salad toppings (here we have strawberries, apples and cucumber)
🥣 vinaigrette: 2:2:1 ratio of balsamic vinegar, extra virgin olive oil, and maple syrup 🍁
Information provided by Registered Dietitian, Jasmine Kwok. Jasmine has always led an active lifestyle, and when not working, she can be found in the gym, training for her next half-marathon, or testing nutritious and delicious recipes in the kitchen. Jasmine understands the many nutrition misconceptions and challenges that her clients face, and she is determined to help her clients develop the healthy eating lifestyle that works for them. Appointments with Jasmine can be made at Athlete's Care Scarborough and Markham locations.