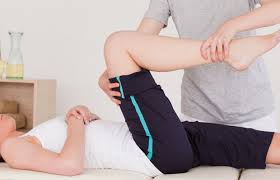 We are pleased to welcome two new practitioners to Athlete's Care Sports Medicine Centres, chiropractor Chad Carter and physiotherapist Raymond Chan.
Chiropractor Chad Carter has joined the team at Downsview Park. In caring for athletes and weekend warriors alike, Dr. Carter follows a Functional Integrated Therapy (F.I.T) approach to treating. He is a firm believer in patient-centered care and incorporates techniques such as neurofunctional electroacupuncture, joint manipulation, Graston, ART, custom orthotics casting, kinesiotaping, along with nutritional advice.
To book an appointment with Chad, please call 416-479-8687
416-479-8687. Athlete's Care Downsview is located in the National Squash Academy at 75 Carl Hall Road, Unit 15
---
Physiotherapist Raymond Chad is excited to have joined the teams at Downsview Park and Sheppard & Hwy 404 at the Fitness Institute. His work in hospital, private practice and sports medicine settings has given him experience in successfully treating all age groups with a variety of injuries. Using an evidence-based approach in the prevention and management of all injuries, he prescribes rehabilitation programs that are specific to meet each patient's goals. Raymond continues to update his skills through post-graduate education, he is trained to use acupuncture and is currently completing the Orthopaedic Division's courses in Manual Therapy.
To book an appointment with Raymond, please call:
Athlete's Care Downsview: 416-479-8687
416-479-8687
Located in the National Squash Academy at 75 Carl Hall Road, Unit 15
Athlete's Care Sheppard & Hwy 404: 416-492-7611
416-492-7611
Located in the Fitness Institute at 2225 Sheppard Ave East