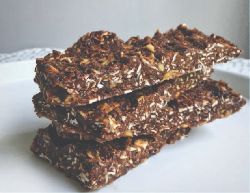 These bars are perfect for that mid-afternoon craving or a pre-workout snack.
Yield: Four pieces
Ingredients:
7-8 soaked and pitted dates,
1/2 cup rolled oats,
1/4 cup coconut flakes,
2-3 tbsp natural peanut butter,
1.5 scoop protein powder,
2 tbsp cocoa powder,
2 tbsp chia seeds (optional)
2 tbsp chocolate chips
Method:
In a food processor, pulse until the mixture comes together (you may need to add a tbsp of water).
Place in a parchment lined loaf pan and press down. Freeze for 1 hour until firm and trim the edges off.
Cut into four equal pieces.
---
Recipe provided by Registered Dietiatian, Jasmine Kwok. Jasmine is a Registered Dietitian (RD) with a passion for sports and fitness. She graduated from McGill University with a Bachelors of Nutritional Science and completed her dietetic internships in Montréal and Toronto.
Find out more about the Nutrition Services available at Athlete's Care.