Athletes are at their best when their bodies are healthy. Staying strong, flexible and having balance is key.
Prevent injury, build strength, flexibility and balance with guidance from our team of experienced Chiropractors. With over 30 years of knowledge and experience working with athletes at every level, we know how to get you to your highest potential. Let us help you prepare for the upcoming season
3 exercise tips with Athlete's Care Chiropractor Dr. Alex Nguyen
FRONT HIP FLEXOR STRETCH
Begin with a forward lunge position and drop your back knee to the floor.
Raise your arms and lock up; press your hips forward and down toward the floor.
Feel a stretch through your torso, hop, groin and thigh.
Hold the stretch for 35-45 seconds; release and repeat on the other leg.
Keep your forward knee over or behind your ankle-not in front of it.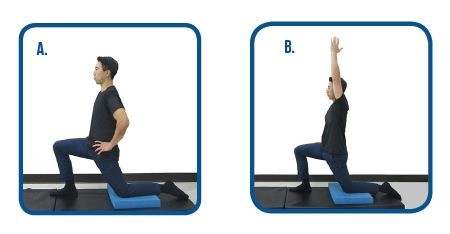 GLUTE BRIDGE STRETCH
Lay on your back with your hands by your sides
Bend your knees and position your geet flat under your knees
Tighten your abdominal and buttock muscles
Raise your hips up in a straight line; align your knees to your shoulders
Squeeze your core toward the spine; hold for 3-6 seconds, repeat 8-12 reps

MODIFIED SIDE PLAN
Lie on your left side and bed your knees to 90 degrees.
Prop your upper body up on your left elbow and forearm.
Brace your core by contracting your abs focefully
Trust your hips forward until your body forms a straight line.
Breath deeply during the exercise. Hold for 3-6 seconds, repeat 8-12 reps.

---
Chiropractor Alex Nguyen practices at our Athlete's Care Brampton & Markham locations. His philosophy on chiropractic care can be attributed to his major passion for athletics, nutrition, and achieving optimal performance. Dr. Nguyen emphasizes an evidence-based approach to treatment plans that alleviate pain, improve overall function, and enhance performance in athletics and daily activities.
Click the link to find out more about the Chirpractic team at Athlete's Care.
https://www.athletescare.com/sports-medicine-services/chiropractic~3~30.html