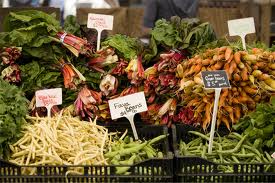 So many delicious foods are grown in Ontario and you don't have to head to the market to find them. Many Ontario foods are sold in grocery stores along side imports. Beets grow almost all year in Ontario and we are just starting up the season again. If you have had beets in the past and haven't had them in a while, I encourage you to head to your local grocery store or farmers market and try Ontario beets. They are sweet and earthy and a great addition to any diet, especially vegetarian as they have a thick, meaty texture. Beets, aka: beetroot, come in a variety of colours from red, orange and striped (known as a candy cane beet). What many people don't know is that their greens are edible! Beet greens are a good source of dietary fiber, potassium, iron, vitamins A and C, and other minerals.
To cook beets, the simplest method is to trim the root (tail at the bottom) and trim the greens. At this point you can peel them but it will be easier and create less of a mess if you wrap the beet in foil with the skin still on. Once wrapped tightly in foil place in an oven at 400 F and bake for about an hour. The beets are done when you can stick a fork in without any resistance (like a potato). Remove from the oven and let them sit for a minute until they have cooled a bit and can be handled. Take a paper towel and rub off the skin. It will come off much easier when the beet is cooked and still warm. If your fingers are stained from the beet juice, rub them with a little lemon juice to help remove the red.
To cook the beet greens, you can treat them like spinach or any other leafy green. The stalks are edible but should be cooked for a few 3-4 minutes first to soften as they will take longer to cook than the greens. Once the stalks have started to soften add the beet greens. You will want to add a bit of vinegar or lemon juice as beet greens sometimes have a bitter note. You can flavour as desired, but something as simple as olive oil, red pepper flakes and red wine vinegar will go a long way!
Article written by Athlete's Care Nutritionist Maxine Silberg.