If you have been to any market in the last two weeks you have seen the abundance of fresh local strawberries! It's easy to get excited about all those juicy red berries, especially if you have found your way to a pick-your-own strawberry patch and buy too many. If you are now faced with too may strawberries to eat before they go bad here are two ideas to help you out.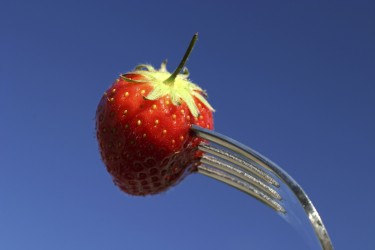 1) Freeze Strawberries. Layer them at peak ripeness on a single layer on a cookie sheet lined with parchment paper. Once frozen transfer to a zip lock bag or storage container and try to remove as much air as possible. Strawberries can be stored for 8-12 months and will be great for use in smoothies, baked goods, topping yogurt or oatmeal.
2) Strawberry Rhubarb Crisp. This quintessential dessert is the essence of the beginning of summer. Ontario has amazing strawberry and rhubarb and both can be found in abundance this time of year. I recently made one from http://cookieandkate.com/2013/strawberry-rhubarb-crisp/ which was delicious!
So go ahead and buy too many strawberries this season. Your taste buds will thank you!
Article written by Athlete's Care nutritionist Maxine Silberg.